Why Outsource Your IT?
If your company would like to consider outsourcing your maintenance and monitoring of your in-house computer network, here's a simple checklist to help you decide:
Is Your Company Facing Challenges?
Staffing IT professionals
Staying current with up to date technologies, security monitoring, and IT skillsets
Managing & maintaining current infrastructure, hardware, and software
Securing data, transactions, and communications
Responding quickly to time-to-market demands
Remaining flexible enough to maintain our competitive position
Reducing cost margins on overhead
Operating in real-time in order to meet 24/7 requirements
Is Your Company in Transition?
It is time to upgrade, move, or relocate existing infrastructure
The scope or scale of current business operations is changing
A merger, partnership, or acquisition is altering operations
We need to increase our level of service to meet customer demand or competitor challenges
Our projected growth targets are dependent on implementing new technologies
We are expanding into a national or international market
Does Your Company Need to Increase Revenue?
We prefer to focus on our core competencies and mission-critical processes
We are able to purchase specialized services that complement our core business
We need to implement a network services but lack the resources
We are concerned with the security of our network and our ability to meet privacy or security regulations
We need better tools and dedicated resources to keep up with the latest security threats
We are experiencing dynamic business growth while undergoing downsizing and hiring freezes
If your company could benefit from a quick consultation, contact us now and we will provide a complete assessment of your current network capacity and security.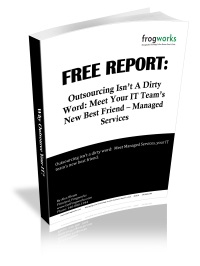 Not Ready To Call Us Yet?
FREE Executive Report: Outsourcing Isn't A Dirty Word: Meet Your IT Team's New Best Friend – Managed Services
That's okay if you're not ready to call – we know you've got many hats to wear right now. If you're having IT problems but you're not quite at the stage where you need to give us a call, our free report should put you on the right track.
This report is a must read for business owners and IT decision makers alike who are struggling with their organization's needs. You've probably heard of managed IT services as a solution, but are they right for you? By the end of the report, you'll have a much better understanding of on how utilizing managed services and internal IT support can truly be the best of all worlds.
Just fill out the form here and we'll send you a copy right away – we're not asking for anything from you in return. Put simply, we're passionate about technology, and we believe that it just plain work for everyone.