I.T. IS COMPLICATED
IT is not the most exciting topic to talk about, but in today's digital age your IT infrastructure is the pulse of your business. This is why we created a managed services IT department (MID). It's a universal solution for any size business. Instead of spending money on new IT employees, hardware, software, employee benefits, and the list goes on, we're providing you what an employee can't. For an all-inclusive, flat monthly rate, we provide you 24/7 monitoring of your entire IT infrastructure including cyber security services. In order to see the value of choosing MID, it's important to understand the other options that currently exist.
KNOW THE DIFFERENCE
We understand that as a business owner, you or someone you have appointed, is responsible on the allocation of your capital. Since most businesses depend on technology services, it's important to understand the different service types available to you. We hope that after realizing what is available to you, you will be able to understand the "why" choosing MID is the right business decision for your business.
The best option for your business. You and your employees will experience little to no downtime because we achieve and provide you a 99% uptime rate for your technology. For an all-inclusive, flat monthly rate, you will receive U.S based, 24/7 proactive monitoring and support at your beck and call for your entire technological infrastructure. No hourly rate, no labor billing, no hidden fees, and no out of scope charges. Your rate will be predictable and will NOT change. Ultimate transparency and peace of mind.
A Managed Services Provider (MSP), always charge for labor, projects and everything out of scope. They typically offer different plans that provide different services and support types. If your systems went down, do you know what kind of support you need? Didn't think so. Choosing an MSP can be very complicated because there are so many MSPs offering different types of service levels and it is up to you to decide what you need.
The original model. When something breaks, you make a call and at some point someone comes out to your location and fixes the issue. Break/Fix providers trade time for money. These businesses keep their fingers crossed that your business technology continues to fail because that is how they profit. You just want your IT to work and they want your IT to break. Let's not forget the cost associated with the break/fix model (labor cost, project fee, equipment, hidden fees, repair fees), and the list goes on.
Relax. IT's Covered
Whether you have problems to solve today or are looking to head off IT problems tomorrow, you need the right IT partner — one that provides the support you need, technology solutions to make you more efficient, is close by, and can grow with you long term.
With our flat monthly fee, you can forget about hourly rates, labor billing, fees for drive time, hidden charges, and unpredictable monthly bills. Instead, focus on your business. We've got IT covered. For IT Support Washington DC, contact us today.
24/7/365 Support
Superior service 24 hours a day, 7 days a week, 365 days a year. Speak with one of our knowledgeable techs any time that you need support.
Simple Pricing
Pricing is simple, transparent and easy to understand. Your costs are normalized and predictable so that you always know how to budget for growth.
Truly All-Inclusive
No labor costs, out-of- scope labor or hourly rates. Forget tracking a technician's hours. There are no hidden charges in our agreement. Anywhere.
Your IT Department
Completely aligned with your business. We take complete ownership over all IT management. Your network running smoothly is the only way we are successful.
What We Believe
Your IT provider should answer their phone, fix things right the first time, follow through on your requests, and actually keep their word.
You should have the cyber security solutions you need in place to protect your business, your employees, and your customers.
And you should worry more about your business than the technology you need to run it.
We use solutions such as Azure and Microsoft 365 to help our clients have a smooth experience with their technology.
We cover IT. You grow your business.
At Frogworks, we are serious about superior IT support. We leverage the combined skills, expertise, and knowledge of hundreds of IT companies to tackle your IT problems quickly, so you can simply focus on growing your business.
For Managed IT Services Washington DC, DC Metro Area, Northern Virginia, and Maryland, contact us today.
Top Questions to Ask a Potential IT Services Company
How is your contract structured? Is there anything that you charge extra for?
Do you charge us onboarding or project fees? Labor for system upgrades, office moves, installing new equipment?
Does your monthly fee go up AND down based on what you're supporting?
BUSINESS CONTINUITY & DISASTER RECOVERY

We combine planning, prevention, protection to make sure your business thrives no matter what comes your way.
SECURE STORAGE SOLUTIONS

Enterprise level infrastructure, storage, security, offering 99%+ uptime SLA and support.
CYBER SECURITY SOLUTIONS

Unmatched prevention technology in a single platform. Any threat. Any OS. Any device.
Network Support & Security
Infrastructure Management
Virtualization
IT Consulting Services
Data Backup
Cloud Computing Services
VoIP
Hardware/Software
The right amount of help for your company
no matter the size, complexity, or current IT resources.
Completely Outsource Your IT Support
Looking for an IT partner that puts your people's time and company's profitability first?
Frogworks has a proven track record of providing Washington DC Area businesses access to high-end IT expertise without the hassle of management and human resource issues associated with internal teams.
Outsourcing your IT optimizes your system's performance so your people don't suffer from a lack of IT manpower, skill sets, or experience, all while keeping your bottom line in mind with cost-effective and pragmatic flexibility suitable for operating a small to mid-size business.
Supplement Your Internal IT Staff
Need an IT partner to collaborate with your in-house IT department or IT manager?
Managing the day-to-day IT operations of any size business can be a huge challenge despite your internal IT team's best efforts. Frogworks brings the right processes, tools, and skills to get your team out from below the mountain of general issues that pop up on a day-to-day basis.
Your internal team can then focus on the things that will increase profitability for your company and make your technology a business driver instead of a cost center.
Frogworks - Support in Washington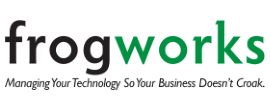 $$$
1655 North Fort Myers Drive
Suite 700


Arlington

,

VA

22209