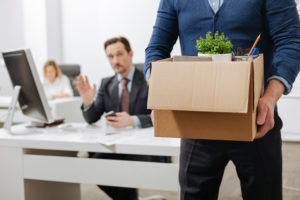 As a business owner you've probably taken steps to secure your network behind a wall of defenses and instituted monitoring practices to keep hackers out. But what if one of the biggest threats to your network security comes from the inside?
The fact is, ex-employees may be in the best position to steal valuable data, wreak havoc on your network, and tarnish your brand image.
While most companies are taking extraordinary measures to keep the bad guys out, many are leaving the door open for ex-employees to compromise their security.
A recent survey conducted by OneLogin found that almost half of the survey respondents were aware of former employees who still have access to corporate applications. The quantitative survey was completed by 500 US-based IT decision makers.
The survey results also showed that "Failure to de-provision employees has caused a data breach at 20 percent of the companies represented in the survey."
44% of the survey respondents were unsure that former employees had been removed from their networks at all.
The good news is that while former employees can represent a grave threat to their former employers, attacks and breaches from ex-employees are one of the easiest threats to guard against. All it takes is a bit of planning to develop consistent procedures that deny access to all company resources from the moment former employees walk out the door.
Here are the steps you should be taking to guard against potential threats from former employees.
Remove Access for all Former Employees Immediately
Change Email Passwords
Employees who can still access to their email can do damage in many ways, from stealing clients, to copying important or confidential email threads. Remove access right away to prevent problems.
Remove Network Access
Be sure to delete the ex-employee's user account so they cannot access your network. This is especially important for ex-employees who routinely accessed the network remotely.
Revoke Active Software Licenses
Prevent employees from modifying work product, deleting files or creating other disruptions by revoking the licenses to any software they accessed.
Review Access Levels on Your Network
One of the best ways to minimize the damage that any former employees can do, is to limit access from the start. Only give employees access to the systems and resources they need to perform their jobs, no more. Review permissions throughout your organization to ensure that critical resources and information can only be accessed by those who really need them.
Create Consistent Off-Boarding Procedures
Every company, regardless of size, should have a comprehensive off-boarding plan in place that includes cutting off access to the company network and related resources.
At FrogWorks, we recommend making a list of all resources that company employees access and creating a checklist to follow when off-boarding an employee. You may need multiple checklists, depending on an employee's position within the company. For example, you might need to remove different access permissions or resources for management personnel than you do for a receptionist or customer service representative.
Creating a checklist makes it easy to be sure no steps are missed and that the same procedures are followed for every single ex-employee, regardless of how they left the company.
Be sure to document your processes and update specific procedures on a regular basis. Outdated information can make it more difficult to be sure all access avenues have been addressed.
Deactivate Dormant Accounts
If you have not been consistent about your off-boarding procedures in the past, make sure you review any dormant or inactive accounts in your system. These accounts are open invitations, not just for former employees, but hackers as well.
While we would all like to live in a world where former employees simply go on to their next job without missing a beat, it's imperative to take the right steps to protect your business and your network. Following the guidelines we've outlined here will go a long way to making sure you aren't caught off guard by an angry ex-employee.
If you have any questions about how to create iron-clad off-boarding procedures for your business network, FrogWorks is always happy to help. Just give us a call at 240-880-1944.