Call the trusted leader in IT Support for Northern Virginia, Maryland, and Washington DC since 2002 – Frogworks.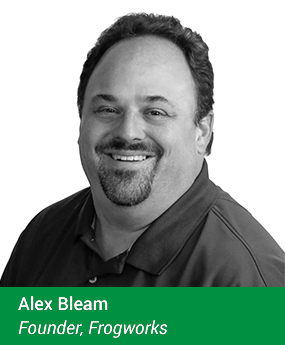 Call Us Today At 240-880-1944
Not Ready To Call Us Yet?
FREE Executive Report: 21 Questions You Should Ask Before Selecting A Computer Support Company
That's okay if you're not ready to call – we really don't mind. But what we do care about is small and medium-sized businesses not making the most of their existing technology and getting the most out of their company. If you're having IT problems but you're not quite at the stage where you need to give us a call, our free report should put you on the right track.
The report contains important questions you should ask your current IT person to make sure that their policies, procedures, and service standards won't leave you vulnerable to expensive problems, lost data, viruses, hacker attacks, and a host of other problems.
Simply fill out the form here and we'll send you a copy today – we're not asking for anything from you in return. Put simply, we're passionate about technology, and we believe that it should work for everyone.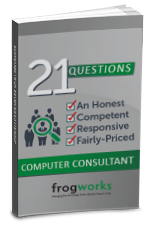 Leading Provider of Innovative IT Solutions Since 2002
Secure, Reliable IT Support, and Managed Services
Don't have an in-house IT department or a reliable IT guy? Don't worry! When you partner with Frogworks, you're partnering with a dynamic team of technical experts who will help you get a real return on your IT investment. For a flat-rate fee, our innovative solutions and solid 24/7 support will lower costs while sending your productivity soaring.
Stop constantly stressing over finding the right solution for IT Support in Annapolis, Alexandria, or Washington DC

Stop asking yourself, "Why are dependable Network Services so hard to find?"

Frogworks helps companies like yours get reliable support they can actually count on.

We're there for you 24/7 with IT consulting to make running your business worry-free!
With Frogworks as your strategic technology partner, you can:
Enjoy Greater Productivity – more uptime means more effective work time
Focus On Your Business Goals – we take technology concerns off the table, ensuring optimal performance
Rely On Guaranteed Asset Protection – your business data and network are safe and secure
Gain Peace Of Mind – 24/7/365 live on-call IT support when you need it most
Frogworks has the expertise you need to stop worrying about your IT Support. Like other similar business owners in your area, count on us, the reliable IT experts, to keep your network safe.