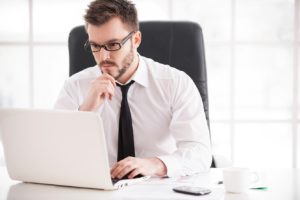 If you're like many small or medium-sized businesses you rely on your computers and your network to get things done. The problem is technology can be frustrating. Some days it works just fine. Other days your email goes down, the printer stops working and you can't access the PowerPoint presentation for your latest sales seminar.
Calling tech support is always an adventure. You never know who you will talk to or how long it will be until someone comes out to fix the problem, not to mention how much it will cost to fix it. In the meantime you try to get work done and keep your cool. But you know the downtime is costing you time and creating aggravation, not to mention all the money you are wasting paying unproductive employees who either try to fix the problems themselves or spend lots of time talking to each other about what went wrong this time.
If any of this sounds familiar you might have found yourself looking for alternatives to traditional IT services. Maybe you've heard about managed IT services in passing and want to know more about it. Or maybe you found this blog post after the last battle with your fickle technology that no one seems to be able to fix.
Could managed IT services finally solve your IT problems? Let's find out.
So What Is Managed IT Services Anyway?
In a nutshell using managed IT services means you pay to keep your technology working, instead of paying when it breaks down. So instead of waiting until you have a problem, then calling tech support to fix it, you pay a tech support team to perform preventative maintenance on your network so things don't break in the first place.
Managed IT service plans are typically available for a set price each month, based on the number of computers in your network. This makes it easy to budget for IT expenses, instead of facing an unknown bill when repairs are necessary.
So what services are covered under a managed IT services plan? While plans vary from company to company, they typically cover things like:
Installing updates and security patches for all of your software
Making sure virus protection and anti-malware programs are functioning properly
Monitoring the condition of the computers on your network
Making sure all of your vital data is backed up and available in case of hardware failure, theft or natural disaster
Monitoring your network for hackers and intrusions
Monitoring the health and available space on your hard drives
Filtering your email for spam, viruses and malware
Fixing glitches and problems remotely, while you keep working
Priority tech support for problems that do happen
In addition, your managed IT services plan may also cover regular upgrades for your computers, printers or other hardware to prevent future problems and improve efficiency and speed.
The bottom line here is proactive prevention that is designed to decrease the downtime you experience and keep you and your employees more productive.
Should Your Company Use Managed IT Services?
The answer to this question really depends on your situation. For many small and medium-sized businesses, managed IT services is a great option that can save you time, hassle and money.
In fact managed IT services may be a good fit for your business if:
Your business is experiencing nagging IT problems that seem to recur regularly
You hate not knowing how much your IT expenses will be from month to month
You see the value in paying to PREVENT problems, rather than fixing things when they break
You like the security of knowing your critical data is backed up and secure
You want the peace of mind of 24/7 monitoring to keep your network safe and hackers, viruses and malware out
You want to concentrate on your business, not your technology
The bottom line is that technology requires maintenance and upkeep to run well, just like your car needs regular oil changes. The question is, who will perform that maintenance?
For most small and medium-sized businesses it makes more sense to pay for managed IT services than to incur the expense of hiring dedicated employees to handle their technology needs.
Want to find out if managed IT services could be right for your business? Get in touch with FrogWorks for affordable managed IT services for businesses throughout southern Maryland, northern Virginia, and Washington D.C.